When it comes to bathroom design ideas, black bathroom tile floors are a great way of updating your space into a chic and contemporary style. Not only do they add a unique design element, but they're also a low-maintenance option since they're stain resistant.
Discover our 15 best black floor bathroom ideas with multiple tile styles, shades, and finishes.
1. Matte Black Hexagon Tile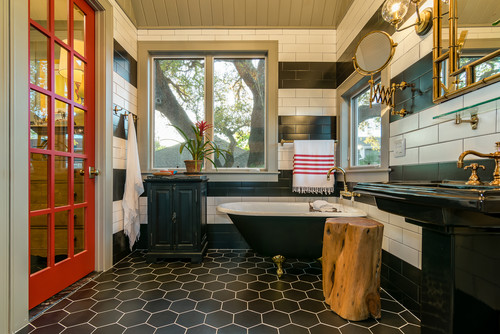 Photo by Camelot Custom Homes Inc. – More bathroom photos
First on our list is this modern ceramic matte black hexagon tile floor that creates a sophisticated and trendsetting style. Moreover, due to its matte finish, it has anti-slip properties.
2. Honed Black Marble Tile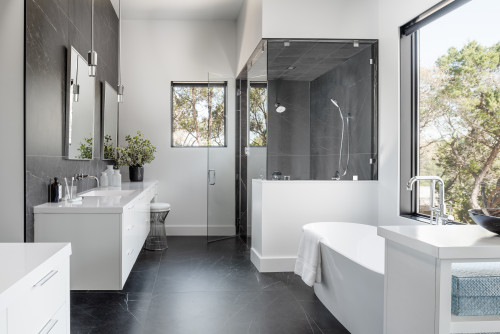 Photo by Laura Burton Interiors – More bathroom photos
For a classic black tile bathroom look, there's nothing more timeless and striking than a honed black marble tile bathroom floor. Elegant and hardwearing, it will define your bathroom for years to come.
3. Black Marble Subway Tile Floor
If you love the look of a black subway tile floor but are seeking something more natural, then this black marble subway tile is for you.
4. Industrial Concrete-Look Tile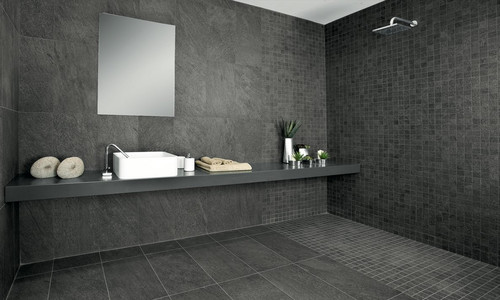 Photo by LIMA CERAMIC TILE LLC – Discover bathroom design ideas
For modern, industrial spaces like lofts, go for a contemporary style black floor tile design. This honed black concrete-look porcelain tile has a smooth, industrial look.
5. Black Penny Floor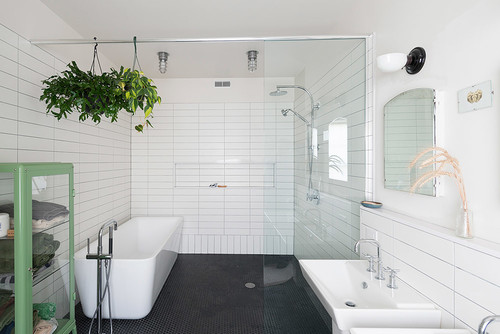 Photo by Woodenbox LLC – Browse bathroom photos
Penny tiles for bathrooms are one of our popular tiles, for good reason. This gorgeous honed marble black penny bathroom tile combines both vintage and contemporary styles for a distinct look.
6. Black Honed Rectangle Marble Tile
Nothing beats the artistry of nature, and this certainly holds true black marble bathroom floors. This exquisite honed marble black rectangle tile highlights the delicate white veining that naturally occurs in marble.
7. Black and White Basket Weave Tile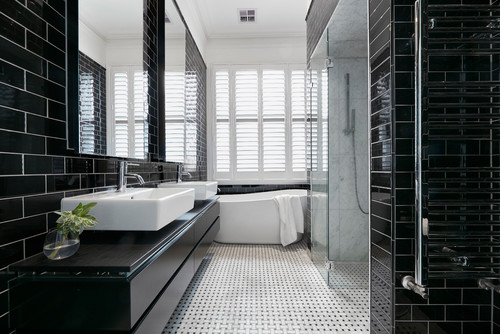 Photo by HU-455428047 – Look for bathroom pictures
If you love vintage mid-century style designs, then we suggest going for a classic black and white floor tile design. This black and white basket-weave marble mosaic recalls the black and white tile floors of twentieth-century French cafés.
9. Black Porcelain Bathroom Floor Tile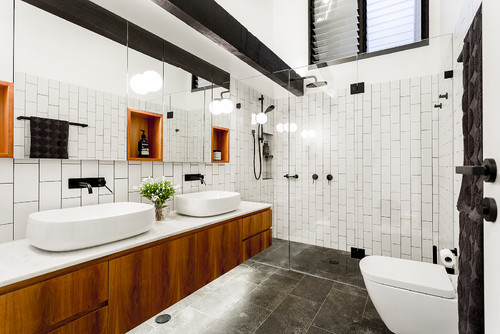 Photo by SQ Projects – Discover bathroom design inspiration
Black porcelain bathroom tiles are ideal due to their high durability and low maintenance. Easy to clean and long-lasting, they're ideal for anyone seeking an easy-to-maintain black floor tile.
10. Black and White Marble Mosaic Bathroom Tile
This black and white tile design has a strikingly artistic design to its mix-and-match of different black and white patterned tile styles. The floor tile pictured is our honed marble black and white mosaic tile.
8. Black Square Ceramic Mosaic Floor
This 2×2 ceramic black mosaic tile has an understated look that's highly versatile. Note how the tiles pictured above have been installed as both a black floor tile and a black tile backsplash for a streamlined look.
11. Black Subway Tile Bathroom Floor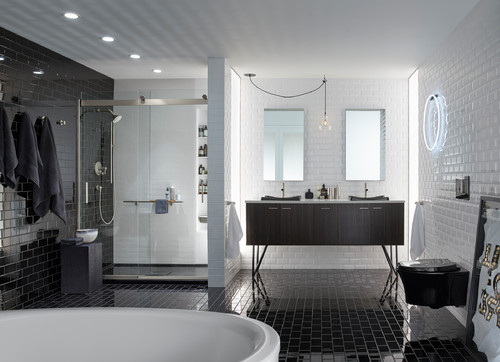 Photo by Castle Building & Remodeling – Search bathroom pictures
Black subway tiles are certainly one of the most popular tile trends of the past few years and will certainly continue to be in style for the years to come. Embrace the elegance of a glossy ceramic black subway tile floor or, for an anti-slip alternative, choose a matte subway tile.
12. Mini Black Hexagon Bathroom Floor Tile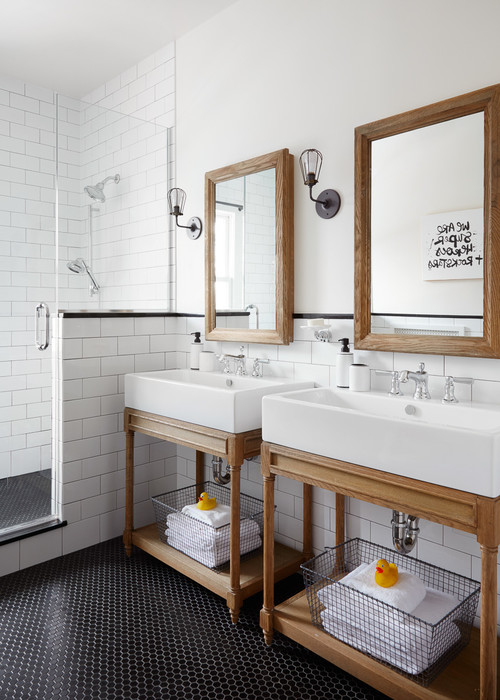 Photo by 2to5design – Search bathroom design ideas
A cross between a classic black hexagon floor tile and a penny tile bathroom design, a mini black hexagon tile bathroom is both chic and charming.
13. Black Limestone Tile Floor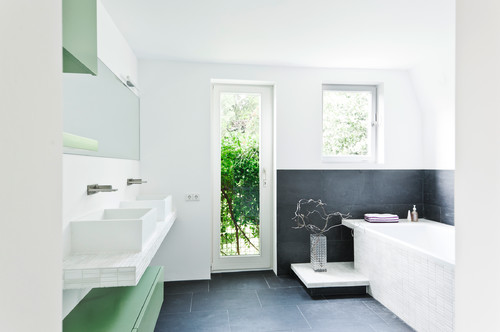 Photo by Wezel Architektur – Browse bathroom photos
An uncommon natural stone tile, black limestone tiles have a natural blue undertone that's absolutely striking. Note how the black tile creates a welcoming cool-toned look in the black tile bathroom pictured above.
14. Black Slate Bathroom Tile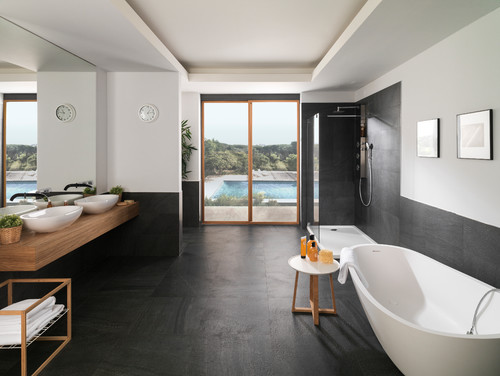 Photo by – Look for bathroom design inspiration
Black slate tiles have a gorgeous organic look that's right at home in nature. Its volcanic look pairs well with seaside-inspired interiors or dark toned contemporary designs.
15. Checkerboard Bathroom Floor
We end our list with one of our absolute favorite black bathroom tile designs. These black and white bathroom tiles from the Checkerboard Marble Collection have an utterly elegant and refined look that's incredibly daring.
Shop Black Tiles for Bathrooms Online
Explore a diverse range of tiles near me for every design aesthetic and budget. Shop our entire collection of black bathroom tiles online today.
As a top natural stone supplier favored by interior designers, architects, and homeowners alike, Marble Systems offers a range of alluring high-quality black bathroom tiles made of marble, slate, ceramic, porcelain, and more.
For more black tile design ideas, check out our blog posts on 21 Sophisticated Black Marble Tile Ideas and Beauty and Mystery Meets On A Pitch-Black Surface with Iris Black Marble.