When it comes to white granite countertops, design meets function with its durable and varied style. Having been in style for decades, white granite countertops are certainly a classic and popular option when it comes to kitchen countertop designs. However, that doesn't mean its look can't be updated for contemporary, chic kitchens.
One of the best things about white granite countertops is their timeless look that looks incredible with a wide variety of kitchen design ideas, from minimalist Scandinavian designs to more traditional rustic country looks.
In this article, we'll go over all the pros of white granite countertops and offer five stylish design ideas for kitchen renovation inspiration.
White Granite Countertops Advantages
1. Style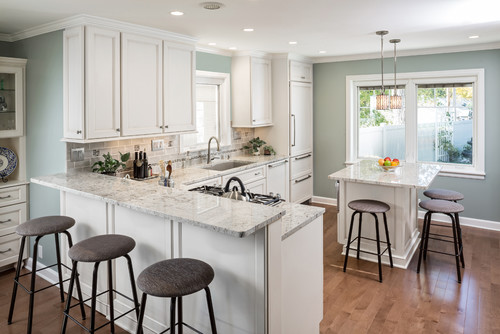 Photo by S.J. Janis Company, Inc. – Discover kitchen design ideas
One of our personal favorite advantages of white is its brilliant white hues, which are usually streaked of silver, gold or other colors due to the mineral deposits. Their result is a gorgeous natural stone countertop design that highlights the beauty of the timelessness of nature. Going for a granite white countertop look is a great way of opening up and brightening a space.
2. Durability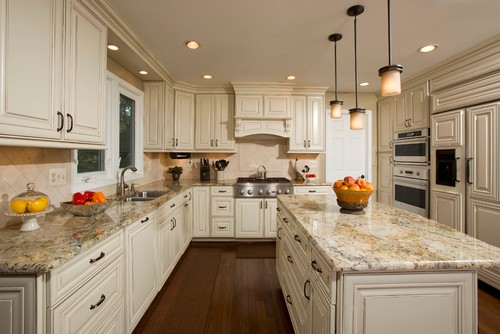 Photo by Michael Nash Design, Build & Homes – Discover kitchen design inspiration
Granite countertops have long been a top contender among homeowners due to their durability. One of the most durable and hardwearing countertops available, granite has a 6.5 on the Mohs hardness scale in comparison to marble's 3 rating. Difficult to scratch or chip, white granite therefore provides the look of natural white countertops in addition to being easier to maintain. To consider all your countertop options, check out our examination of the difference between quartz vs granite and quartzite vs granite.
3. Stain Resistance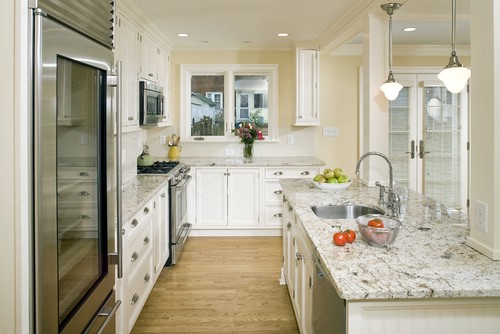 Photo by Erin Hoopes – Search kitchen pictures
Another desirable quality of white granite kitchen countertops is their stain resistance. Granite is naturally stain-resistant. While with white marble countertops, staining is always a risk, with white granite countertops it is likely to occur with white granite. Nevertheless, granite is a natural stone and should be regularly re-sealed to maintain its pristine look. If you prefer the ultimate low-maintance option, then porcelain countertops might be the best option for you.
4. Variety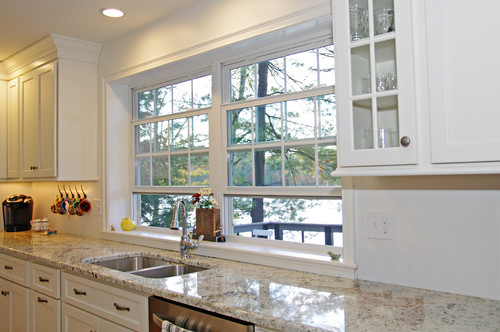 Photo by Eco-Neered by Design, LLC – Look for kitchen pictures
Our final pro for white granite kitchen countertops is their variety. Due to the different types of white granite available, including ice white granite or silver white granite, there are a lot of different hues, tones, and patterns of white granite available. Browse our option of brighter white granite options or embrace a more moody, white and gray granite look.
White Granite Countertop Ideas
1. Contemporary White Granite Kitchen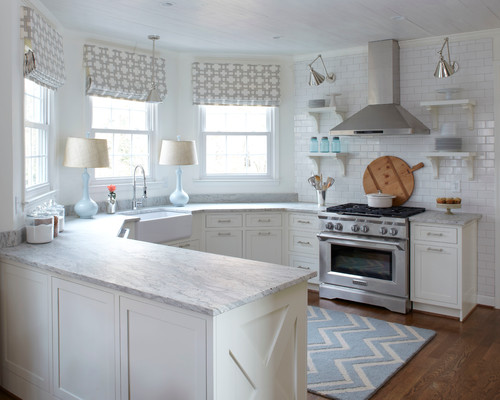 Photo by Lisa Gabrielson Design – More kitchen ideas
This white granite kitchen seamlessly combines rustic designs and contemporary flairs for this unique and trendy look. If you love the monochromatic white kitchen look, then this Sea Pearl Polished White Granite Slab certainly for you.
2. Modern Scandinavian Kitchen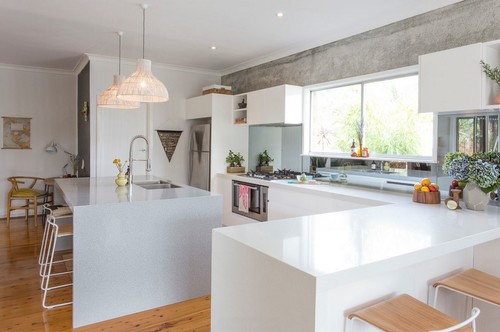 Photo by Granite Transformations – Browse kitchen ideas
Go ultra-modern with this sleek Scandinavian kitchen design, complete with a uniform white granite countertop like our Bethel White Polished Granite Slab.
3. Traditional White Granite Kitchen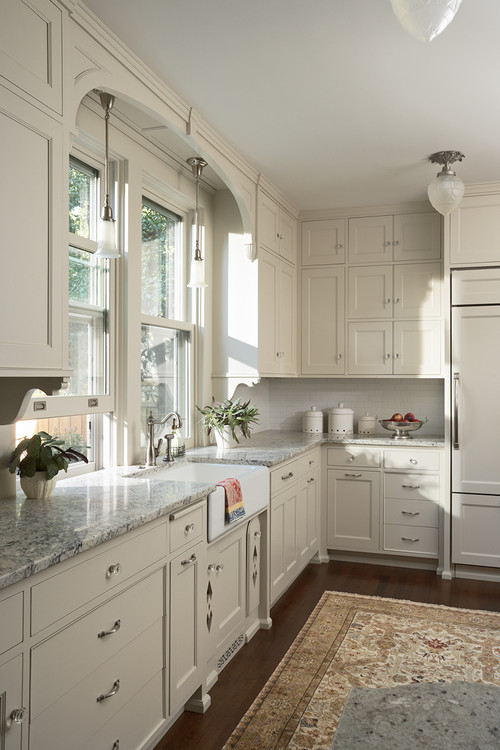 Photo by David Heide Design Studio – Discover kitchen design inspiration
If you love the look of a classic country kitchen design, then embrace tradition with this kitchen design. The combination of white granite countertops with white cabinets offers an elevated twist on the typical. Our gorgeous Glacier White Polished Granite Slab has streaks of alluring silver like the one pictured above, or go for a darker version with this River White Polished Granite Slab.
4. Minimalist White Granite Kitchen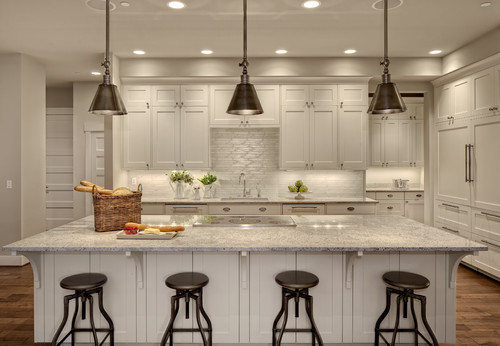 Photo by Interiors – More kitchen photos
Minimalism is certainly one of the trendiest kitchen design looks of the past few years due to its pleasing nature. Create a harmonious look by pairing white granite countertops like this Camilla White Granite Slab with an all-white color scheme.
5. Country Cabin Kitchen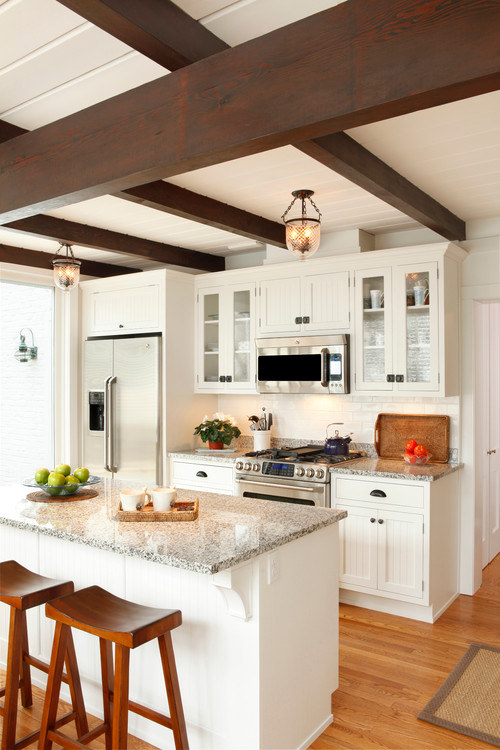 Photo by Lasley Brahaney Architecture + Construction – Search kitchen design ideas
This country-chic kitchen design has an effortlessly welcoming atmosphere. It goes beautifully with hardwood floors and rustic kitchen motifs. For backsplash ideas for white cabinets and granite countertops, consider adding a colorful ceramic backsplash tile.
Shop White Granite Countertops
As one of the leading producers of natural stone slabs and tiles in the world, Marble Systems offers a wide range of sophisticated and high-quality white granite slabs. Or, if you're seeking an alternative, then check out our white quartz selection. Browse our collection of white granite countertops online or visit one of our locations near you.
Did you know the residents of Los Angeles can find the perfect slabs and tiles for their project at our tile store Los Angeles?
River White Polished Granite Slab
Size: Random 1 1/4
Stock: In stock
Glacier White Polished Granite Slab
Size: Random 1 1/4
Stock: In stock
Camellia White Polished Granite Slab
Size: Random 1 1/4
Stock: Currently unavailable
Sea Pearl Polished Granite Slab
Size: Random 1 1/4
Stock: Currently unavailable