Black quartz countertops are one of the most underrated design choices of the year. Chic and sophisticated, they are both effortless and easier to maintain than countertop options. A type of manufactured stone, quartz countertops are engineered using quartz fragments and an industrial-grade chemical binder. The result is an incredibly hardwearing type of countertop that is difficult to chip, crack, or scratch. Moreover, it's stain-resistant and easy to clean.
When it comes to browsing black quartz kitchen countertop options, there are many different styles, finishes, and colors available. There are many varieties of black quartz available that mimic the look of natural stones like marble or granite.
With so many advantages, it's easy to see why black quartz countertops for kitchens and bathrooms are one of our top choices for countertops. Here are 15 black quartz design ideas to spark design inspiration.
1. Industrial Chic Black Quartz Kitchen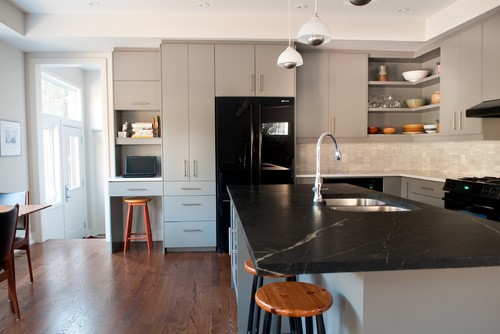 Photo by CabinetWorks Plus – Look for kitchen pictures
One of the top design trends of this year is organic industrial designs, which combine nature with modern minimalist aesthetics. Consider these black quartz countertops with white veins, which add a natural look to a contemporary interior.
2. Sleek Waterfall Black Quartz Countertop
Combining black countertops with a waterfall countertop design is the definition of modern. Consider embracing this honed black quartz kitchen countertop to have a natural stone countertop look in a more low-maintenance style.
3. Dark Gray Quartz Countertop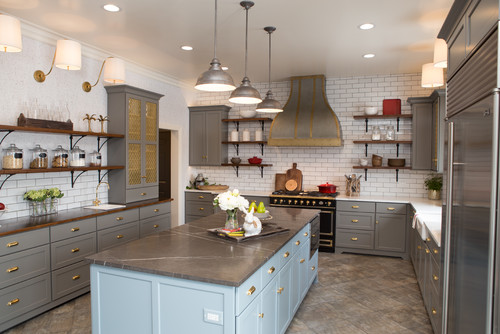 Photo by Advance Design Studio, Ltd. – Browse kitchen ideas
If you like the look of black quartz but prefer a softer look, then consider a dark charcoal gray quartz countertop. It perfectly compliments the light blue cabinets in the image above.
4. Black and White Quartz Countertop Design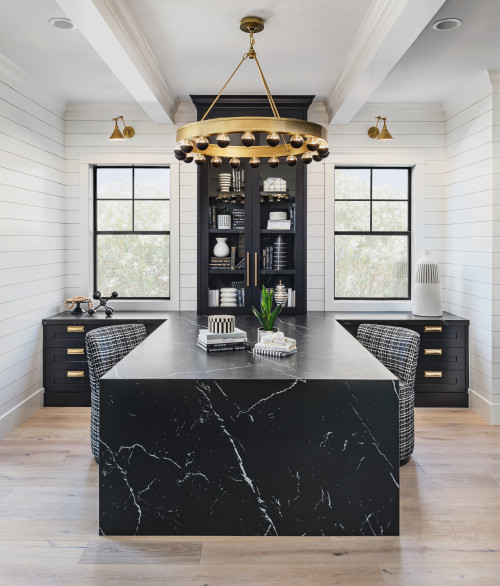 Photo by K and Q Interiors – Browse home office ideas
Black and white designs are one of the most popular ideas of this year. Fully embrace the look with quartz black countertops and white walls. Go bold with the ultimate contrasting style.
5. Scandinavian Black Quartz Countertops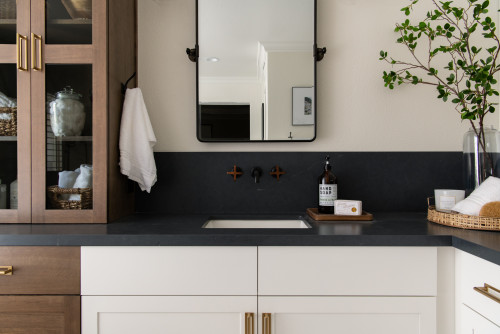 Photo by Sea Pointe Design & Remodel – Browse bathroom ideas
Scandinavian interior design styles have been one of our personal favorite trends in recent years. There's something so soothing and elegant about Scandinavian minimalism. Embrace this design with matte black quartz countertops and clean, minimalist edges.
6. Black Quartz Countertops And White Cabinets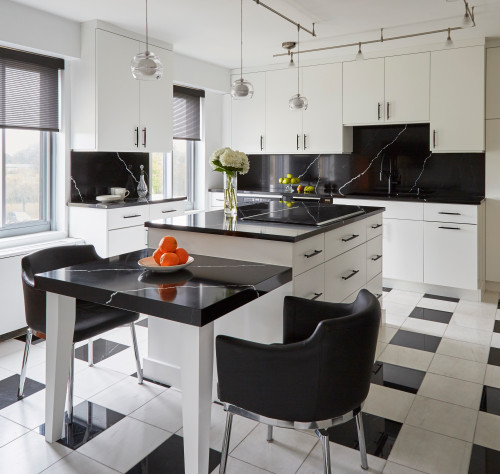 Photo by DDK Kitchen Design Group – Browse kitchen photos
Another minimalist design is combining black quartz countertops with white cabinets. Emphasizing contrast can create a contemporary atmosphere that looks sleek and polished. The black quartz countertops kitchen completes the color scheme with a checkerboard floor.
7. Floating Quartz Black Countertops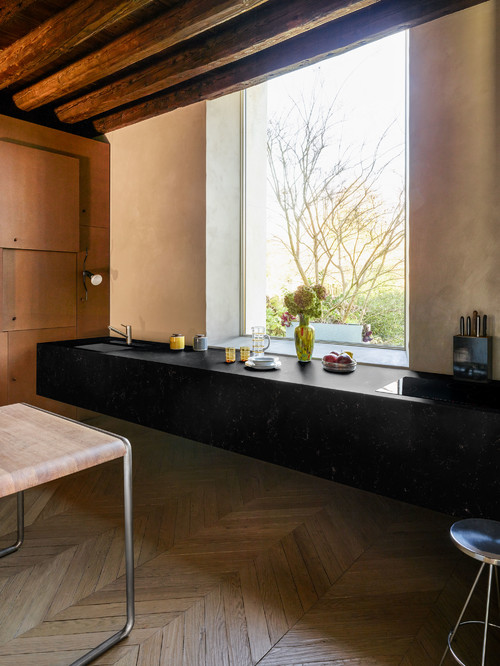 Photo by Corian® Design – Search bathroom pictures
Floating countertops are an utterly stylish way of transforming your kitchen into a contemporary space. Perfect for Californian-inspired kitchens, this design looks effortless when combined with hardwood floors and a natural atmosphere. Black matte quartz countertops complete the harmonious look.
8. Elegant Black and White Quartz Countertop
Black quartz countertops have an incredibly versatile look that suits traditional and contemporary interiors, and anything in between. This white-veined black quartz bathroom vanity countertop looks beautiful when matched with brass finishes. Or, go the opposite direction with this black and white quartz countertop with a white surface and black veining.
9. Traditional Kitchen Black Quartz Countertops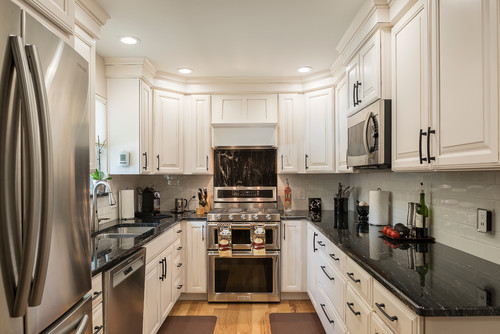 Photo by Morrell Construction – More kitchen photos
If you love the traditional look of black marble countertops but are balking at their high maintenance, then consider going for kitchen black quartz countertops as a stylish and lower-maintenance alternative. With so many quartz slab colors and styles, the options are endless.
10. Black Quartz Countertop and Black Quartz Backsplash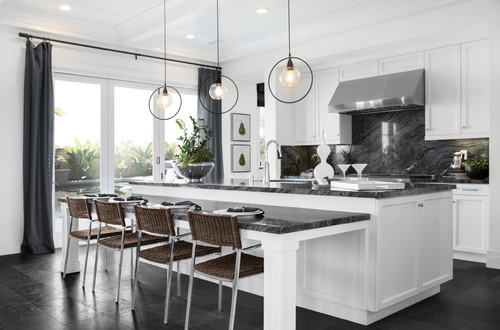 Photo by Chris Laughter Photo – Look for kitchen pictures
If you want an elegant, uniform look then fully embrace black quartz by pairing a black quartz countertop with a black quartz backsplash. The result is a harmonious kitchen atmosphere that ties the whole room together. Up the contrast with white cabinets or go for a more soothing design with gray or wood cabinetry.
11. Industrial Black Quartz Kitchen Countertop
This honed multicolor quartz slab combines shades of black, gray, blue, and white for a unique natural-stone look. Perfect for industrial interiors, its speckled pattern has the look of mineral deposits often found in granite. Pair with concrete floors for the complete industrial design.
Shop Black Quartz Countertops Online
Browse our entire range of black quartz countertops online today. As one of the world's leading tile and slab manufacturers and distributors in the world, Marble Systems offers a range of high-quality natural stone and manufactured countertop options.
For more quartz countertop inspiration ideas and tips, check out our blog posts: